How to Create a Brand Identity For Your Company?
Brands are everywhere. Look around yourself and you'll recall a few brands that you've been using all these time without even realizing it. As a business organization, you should strive for creating a powerful brand identity for your company.
With the right guidance, any business can create a brand identity. Here is a comprehensive guide you can follow along while creating a brand.
What is a Brand Identity, anyway?
Before building a brand, you need to understand what a brand actually is. So let's start with the basics.
Historically, the term "brand" was associated with a marked cattle on the grazing field. The ranchers would herd their cattle on the ranch. There were other ranchers too who would herd their cattle in the same area. This always made it harder for them to distinguish their cattle from others.
To identify their cattle easily, they would mark theirs with a symbol. This made it easy for the ranchers (and others) to distinguish their own cattle from the herd.
While the term "brand" has evolved since then, the idea remains the same — to stand out.
There will be dozens of businesses operating in the same business as yours. They will be offering, more or less, the same products or services as you.
But what would help it stand out is brand identity.
In technical terms, a brand identity is defined as the personality of your business. So it includes what you say, how you say it, what your values are, and how people feel about you.
You can borrow a quote from Amazon CEO, Jeff Bezos, who says, "Branding is what people say about you when you're not in the room."
So it's the inherent values and promises that you make, and how people respond to such values.
The Coca-Cola Brand
Understanding brand identity with an example, let's consider Coca-Cola.
Whenever you think of Coca-Cola, the pictures of the circular red logo with ribbon-like imagery will come to your mind. The red color is meant to elicit confidence in people to try it out. The typescript is all about enjoyment and happiness.
So in a way, Coca-Cola is not selling sugar soda, it's selling happiness and enjoyment, which helps it stand out from other soft drink makers. And people respond to it too. They have it when they're done for the day and want to relax with their friends at a restaurant or bar. As a result, Coca-Cola is a billion-dollar business today.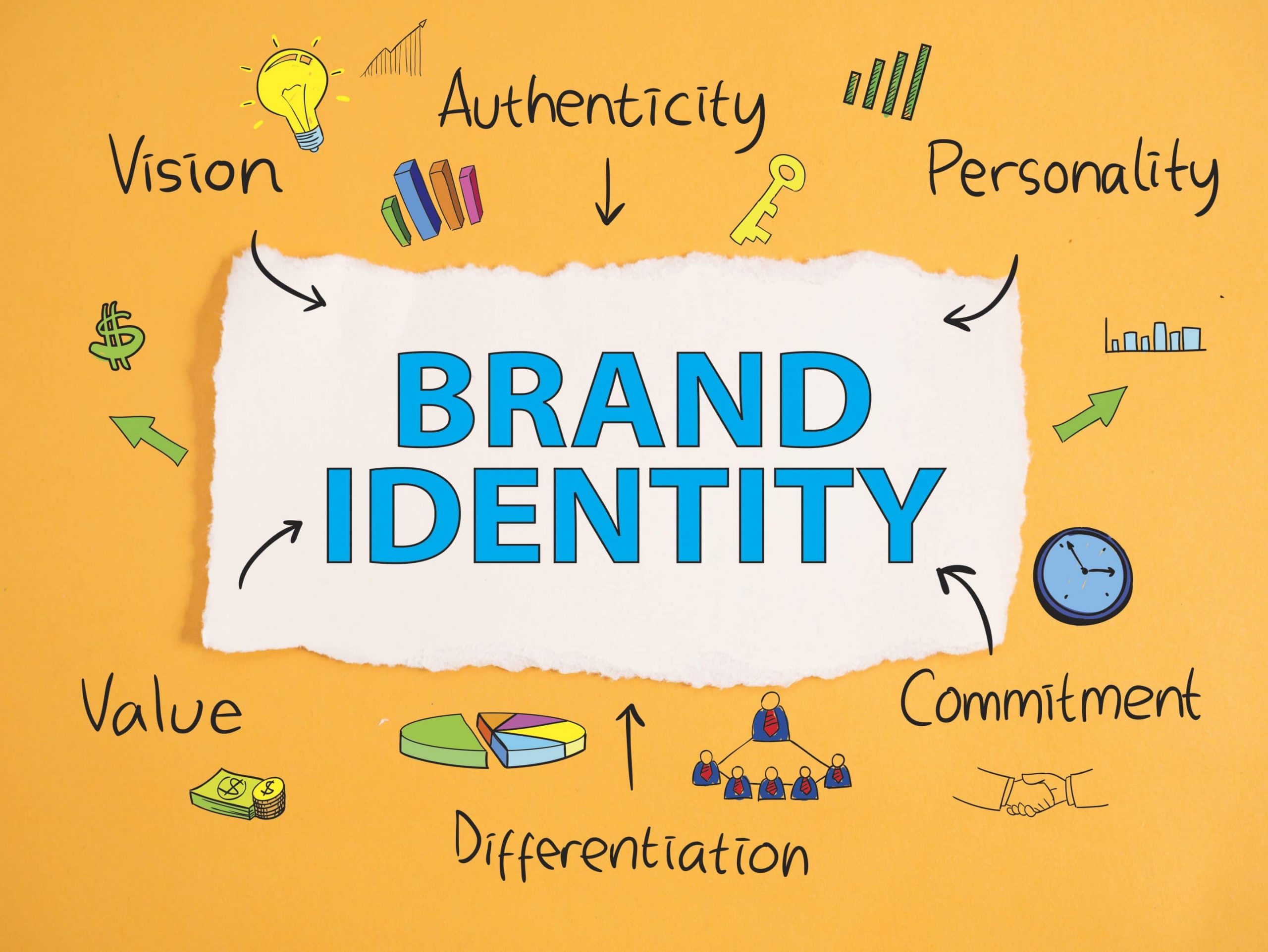 10 Steps to Create a Brand Identity For Your Company
If you want to build a powerful brand for your company, then it's not going to be easy. Standing out from the crowd takes time, monetary investment, and hard work.
But you can ease the process by following a framework. Here's a 10-step you can adopt for your business to create a powerful brand. The ten steps are:
 

Discover Your Purpose

 

Research About Your Competitors

 

Pinpoint Your Target Audience

 

Establish Your Brand Mission and Brand Vision

 

Create a Unique Brand Voice

 

Build a Brand Story and Messaging

 

Create Brand Visuals

 

Start Communicating with Your Audience

 Track Key Brand Metrics

 Deliver on Your Promises
Let's explain each step in brief for better understanding.
Discover Your Purpose
Every brand has a purpose that drives it. This purpose is what motivates the employees to create the products or deliver a service.
Not only employees, but it also motivates the consumers to purchase from you and only you. Leadership expert Simon Sinek in his book "Start with Why" reveals that people don't buy what you do, they buy why you do it.
When defining a brand purpose, you should answer the following questions:
 

What does your business exist?

 

What factors differentiate your business?

 

What problems is your business solving?

 

Why should people care what you do? 
These questions are the foundation to creating a powerful brand. And the answers will help you through the rest of the steps.
Research About Your Competitors
The next important step in building a powerful branding learning about your competitors through research. It's not to imitate or copy their success, but to be aware of what they are doing.
You'll use the research data to position yourself in the market with the goal of differentiating you from the competitors.
When you're researching about your competitors, take note of the following:
 

Their products and services offered

 

Quality of products and services

 

Market size

 

Message and visuals

 

Customer reviews and mentions

 

Marketing efforts
To gather these data, you'd have to conduct both qualitative and quantitative research. A branding company in Dubai can help you get the research done.
Pinpoint Your Target Audience
You can't sell yourself to everyone. Neither will your brand be able to. Successful brands target a specific audience.
To find your target audience, you need to define a customer persona. It is defined as an accurate representation of your ideal customer.
The description of the target audience should be as detailed as possible. So instead of claiming your brand will target all moms in Dubai, you need to pinpoint and narrow down the targeting. Moms aged 25-35 years of age holding full-time jobs and traveling frequently is a much better description.
You'll be using this description in all of your marketing activities.
Establish Brand Mission and Vision Statements
Establishing a brand mission and vision is important to building a strong brand. Your mission is the reason your business exists, and your vision is where you strive to reach.
Think of a mission statement as a commitment. For a clothing brand, it can be "To build sustainable clothes for everyday office-goers." It communicates clearly to your target audience what you do and why.
Your vision statement can be more internal that drives your employees and leadership group.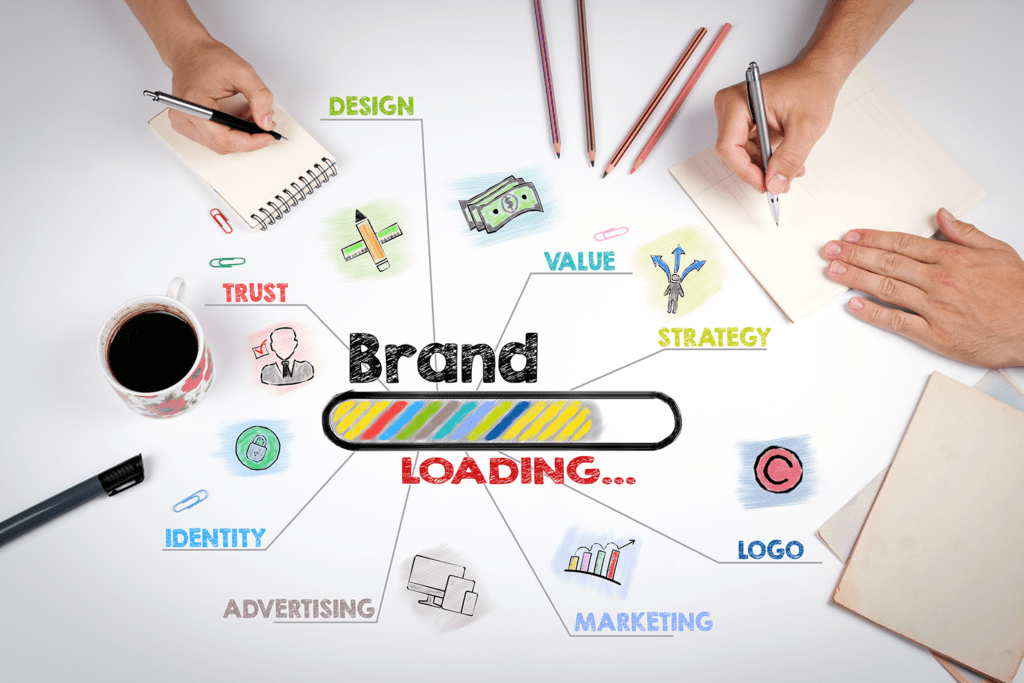 Create a Brand Voice
Every brand has a specific voice. You need to decide how your voice should be. It could be professional, authoritative, technical, friendly, promotional, informative, or conversational.
The voice depends on the sector and type of business. A B2B company will adopt an authoritative or professional voice. While a B2C company targeting Gen-Z can have a friendly and conversational voice.
So decide what your brand voice or tone would be.
Build a Brand Story and Messaging
All brands tell a compelling story. Creating a story is important because ads don't motivate people. Stories do. The story is what will push your customers to buy from you.
Your brand story shouldn't be fabricated. It should be genuine with inspirations from real-life. The best stories are the ones that led to the founding of the company. What problems the founders identified and how they started a company to solve that problem.
These stories will inspire people to learn more about you. And eventually they'll become a paying customer.
Create Brand Visuals
Brand visuals are like the symbols that were marked on the cattle. They help your business stand out from the rest of the competition.
The main component of brand visuals is the logo. It should be thought-provoking and appealing. Also, make use of color psychology when designing your logo. If you lack in-house resources, hire a brand agency Dubai to create a logo. It's something you shouldn't compromise on.
You should also use the visuals on all of your brand assets like products, packaging, invoices, website, videos, and others.
Start Communicating with Your Audience
You've created everything necessary to build a strong brand. Now it's about communicating with your target audience.
The Internet has made it easier to communicate with the world about your brand values. And that's a good place to start as well.
Create your brand profiles on social media sites like Facebook, Instagram, Snapchat, TikTok, etc. Distribute the brand visuals you created to attract a relevant audience. You can do the marketing in-house or hire a branding company in Dubai for that matter.
Once they're familiar with your brand, pitch them your products. They're more likely to buy from you and keep buying repeatedly.
Track Key Brand Metrics
When you start marketing your brand, you need to gauge its effectiveness. And you do that by setting up and tracking brand metrics or Key Performance Indicators (KPIs).
Some of the most useful brand metrics are:
 

Viewable impressions

 

In-view time

 

Visibility

 

Brand linkage

 

Brand favorability

 

Retransmission

 

Persuasion

 

Sales
You need to set up processes to track these metrics.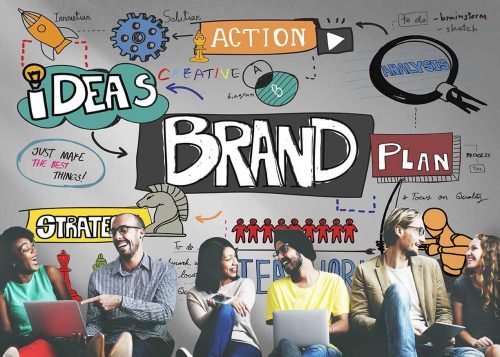 Deliver on Your Promises
Last but not least, you need to deliver on your said promises. If you say you're going to build sustainable clothes, your clothes should be sustainable. Otherwise, your brand will fail flat.
To ensure you're delivering, conduct customer surveys regularly and gather feedback. If the response is positive and in your favor, you can be sure that your brand is succeeding. Otherwise, you need to rethink your strategy before your brand fails.
Conclusion
As you can see, building a brand is complex and hard work. A Branding agency in Dubai can help create a brand identity for you. The agencies are adept at researching your market and suggesting ways to develop a strategy. With time, effort, and consistency, you can transform your business into a successful brand.