Top 10 Advertising Companies in Dubai
Before reading about these top advertising companies in Dubai, you should understand the very basic concept of an advertising agency.
Advertising agencies are strategic-led enterprises that hire creative and innovative developers to create high-end marketing strategies. Businesses that are empowered to achieve growing success hire best advertising agencies who are specialists in creating significant connections between the clients and their consumers. 
In the year 1994, Advertising took over the market with the world's first banner ad. We see many Brand Advertisements everyday but unfortunately only a few can remember, this is because the whole business market is day by day building up a tough competition in advertising with its diverse population always wanting something more and better. These ads are designed to both influence and illuminate, and have done incredible work in shaping consumer trends. However, you may wonder who's making every one of these advertisements. What's more, it is largely because of these advertising agencies. 
In the year 2021, we're all aware (whether pleasantly or unpleasantly) of the omnipresence of advertising in our everyday lives. Luckily, Dubai has some of the best ad agency to hire. Utilize our list to find and interface with ad agencies in Dubai and figure out which company is the best fit for you to implement unique and creative ideas.
The Top 10 advertising companies in Dubai, UAE:
Prism Advertising LLC

Kingsmen Agency

Tonic International

Sketches DMCC

Inkpot Graphics LLC

Eleven777 Advertising LLC

Katch International

ICS – Dubai

AMC – Advertising & Marketing Consultants DMCC

Ashtel Design Agency LLC
Prism Advertising LLC
About: Prism is a creative agency that is raising the bar for creativity by stepping up the traditional branding and marketing practices and combining them with innovative digital online solutions and social media. 
Prism develops Creative Strategies and Strategic Creatives. Since its inception in 2004, Prism offers every client the best in the brand and corporate communications. With an aim to create result-oriented, cost effective and objective-driven communication, they make their clients look good and sell better.
Expertise: Branding & Strategy, Designing, Digital Marketing, Printing, Exhibition & Events, Audio Visual etc;
Contact:
Address: 703, Bay Square 13, Dubai, UAE.
Phone: +971 4 874 8206, +971 55 545 7094, +971 55 545 7091
Email: info@prismads.com
Website: https://www.prismads.com/
Kingsmen Agency
About: At Kingsmen Agency, understand an emotional connection that is essential in developing a relationship between audiences and a brand. They provide the clients with creative content that informs, entertains, and provides value to their audiences to strengthen this connection. Ultimately, they improve business performance and strive to accelerate business growth for the clients.
This way, they're able to build a bridge that connects the clients' current capabilities to their future potential and accompanies them every step of the way. They have curated an international team of experts who share the values, and consistently strengthen the connection between the clients and the audiences.
Expertise: Digital Marketing, Branding Solutions, Social Media Management, Web Design & Development, Video & Photography, Advertising & Marketing Services etc;
Contact:
Address: Business Bay, Churchill Executive Tower, Office 2114, Dubai, UAE
Phone: +971 56 171 5886
Email: Info@kingsmenagency.com
Website: https://kingsmenagency.com/
Tonic International
About: Tonic International works better together and provides better solutions when making branding, advertising, and media work. When their multi-culture, multi-disciplinary team of experts works together, creativity runs through everything they do. They help you do better with creative and innovative marketing strategies so you can grow your business and successfully navigate the digital world.
They strive in the uncertainty necessary to generate the best ideas and constantly reinvent themselves to stay ahead of the ever-changing digital world. As a result, Tonic International keep their clients and staff longer than most communication agencies. They believe that marketing works best when it works together. Using our integrated, one-stop-shop approach to seamlessly deliver omnichannel solutions that generate tangible business results.
Expertise: Advertising, Branding & Designing, Digital Marketing, Web Development, Social Media Marketing etc;
Contact:
Address: Gold and Diamond Park, Building 3, #3203, PO Box 117668, Dubai, UAE
Phone: +971 4 341 3868
Email: nelson@tonicinternational.com
Website: https://tonicinternational.com/
Sketches DMCC
About: Sketches is a full-service Advertising Agency founded in 2011 in Dubai and supported by a wealth of knowledge and experience brought together by its team and founders. They offer a wide range of graphic, advertising and marketing services. They provide you with what your business needs to succeed.
Sketches provide clients with results-focused, full-service advertising agency solutions. With in-house resources and both online and offline marketing expertise, they are able to deliver creative promotions and advertising services at highly competitive rates. Unlike a traditional advertising agency, Sketches has the capacity to develop, produce and deploy fully integrated marketing services with both online and offline components.
Expertise: Branding, Printing, Packaging, Advertising, Media Production etc;
Contact:
Address: 3305, 1 Lake Plaza Tower, Cluster T, JLT, Dubai, UAE
Phone: +971 4 3686766
Email: info@sketches.ae
Website: https://sketches.ae/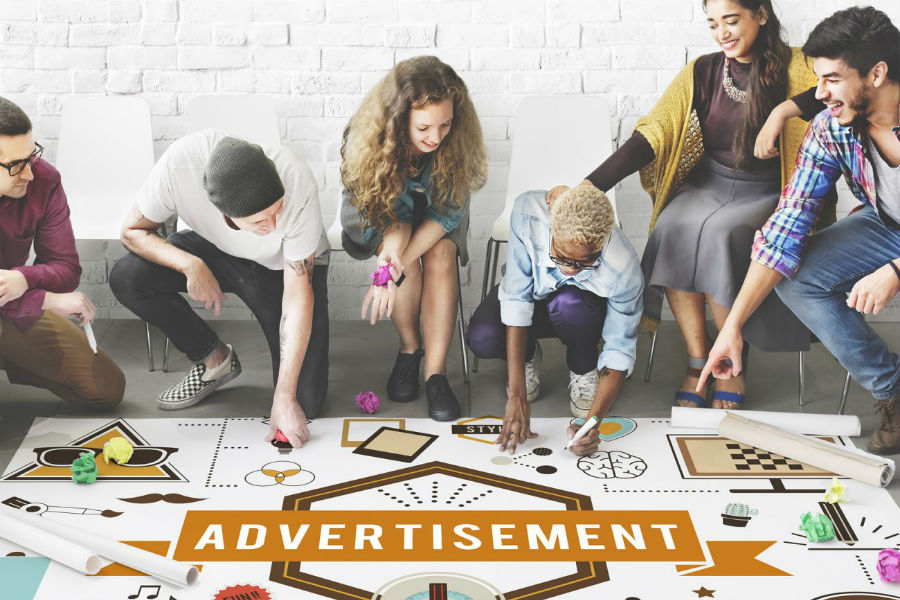 Inkpot Graphics LLC
About: INKPOT GRAPHICS is the leading advertising, graphic designing, manufacturing, and supplying of products in Dubai, UAE established in 2002. They are a renowned & highly competitive branding & Ad agency in Dubai that initiated the idea of delivering quality branding services. 
They provide advertising services to provide the best branding services and the design crew with over 16 years of experience in accomplishing all categories of design requirements. They are always up on their toes because, in order to stay competitive in advertising & branding, they know that they need to invest in the latest equipment and keep at pace with the latest advertising trends and technologies. 
They are now having the latest technology in Advertising and Printing Services & complete solution for visual merchandising, Signage solutions, and a complete below-the-line one of the best advertisement company in Dubai for your business.
Expertise: Creative & Branding Services, Packaging, Signage or sign boards, Product Display Stands, Exhibition & Events, Corporate Gifts, Large printing, Vehicle Branding etc;
Contact:
Address: Al Habtoor Complex Shed #66, Al Qusais Industrial Area 3, Dubai, UAE.
Phone: +9714 255 4844
Email: inquiry@inkpotgraphic.com
Website: https://inkpotgraphic.com/
Eleven777 Advertising LLC
About: Eleven777 are a full-service advertising, design and digital marketing agency, based in Dubai. As a creative agency, they do anything but typical. In fact, the desire to do things differently is what encouraged them to set up in the first place. 
They believe that they have re-evaluated typical agency, client relationships, and have defined them in their own unique way. Many of the clients think of them as a partner, not merely a vendor, but this didn't happen overnight. With hundreds of successful campaigns behind them, they're eager to listen to your needs and come back with solutions that really work.
Expertise: Branding, Designing, Copywriting, Search Engine Marketing, Digital Marketing, Social Media Marketing etc;
Contact:
Address: 1707, Damac XL Tower, Business Bay, Dubai, UAE
Phone: +971 4 453 7304
Email: info@eleven777.com
Website: https://www.eleven777.com/
Katch International
About: Katch International is an innovative marketing, public relations, media and events agency based in London and Dubai, which creates and communicates a fresh and personalized approach to working with brands and agencies. As an agency, they take pride in working in a transparent manner with clients to leverage the best out of campaigns and communicative strategies.
Working with brands in different sectors, Katch is a company that is inspired by variety and is easily adapted to the demands each field brings. They are an agency that holds its strengths in breaking away from traditional marketing and PR, to bring a creative edge to the work that they do. 
Expertise: Branding & Designing, Social Media Management, Digital Marketing, Public Relations & Communication etc;
Contact:
Address: 2004, Tameem House, Barsha Heights, P.O.Box 122321, Dubai UAE
Phone: +971 4 243 8577
Email: info@katchthis.com
Website: https://katchinternational.com/
ICS – Dubai
About: International Communication Services (ICS), a global consortium, is the premium provider for marketing communication services specializing in multilingual and multicultural projects. It was established in Dubai, a culturally diverse city, as an Integrated MarCom Life-Cycle company. They help enterprises in their marketing communication across channels in many languages.
They are one of the few providers of multilingual and multicultural marketing communication services in the world. They take care of your branding needs that include designing and developing a unique website, digital marketing, and more. With over 300 professionals, the ICS team will deliver the best results.
Expertise: Creative Services, UI/UX Designing, Content Services, Promotional Services, Digital Marketing, Video Marketing, Exhibition Builders etc;
Contact:
Address: Suite No. 417, 4th Floor, Building 8, Dubai Media City, Dubai, UAE
Phone: +971 4 369 2509 / +971 4 429 3288
Email: info@ics-dubai.com
Website: https://www.ics-dubai.com/
Advertising & Marketing Consultants DMCC
About: At AMC, they constantly explore new ways to bring out your brand's unique perspectives with their cutting-edge creative concepts and innovative strategies. They thrive on the ability to think differently, over a vast experience, and the passion for creating compelling brand engagements.
They are creative solutions that make a world difference as it positively influences and defines the future of your brand. They plan the most effective ways to build an instant rapport between your brand and the target audience. With over 30 years of excellence, they always strive to create that powerful connection in the local, regional and international markets with full-fledged offices in Dubai, Abu Dhabi, Beirut, Kuwait, Riyadh, and Jeddah.
Expertise: Creative Campaigns, Media, Social Media Management, Branding, Public Relations, Exhibition & Events, and Digital Marketing etc;
Contact:
Address: JBC2, Cluster V, Jumeirah Lake Towers, Dubai, UAE
Phone: +971 4 457 2125 / +971 2 627 1777
Email: enquiry@amcuae.com
Website: https://amcuae.com/
Ashtel Design Agency LLC
About: AD Agency offers a one-stop shop with the entire breadth of design solutions & marketing services, from advertising design and campaign implementation to branding and image-building. With a decade of vast in-house creative experience from the Ashtel group of companies the team evolved, a decisive step towards serving and showcase the innovative talent to the world. 
What they have achieved is their experience to manage and give a strong hand to the companies to grow further and expand their business. Thus they believe that with a strong background of living experience in the midst of unstable market conditions, they do better than what others can. 
Expertise: Creative Campaigns, Branding, Prints & Displays, Digital Marketing, Interior Designs, Website & Ecommerce etc;
Contact:
Address: Suit. 305, Al Ain Ahlia Insurance Bldg, Frij Murar, Deira – Dubai.
Phone: +971 4 2730100
Email: info@adagency.design
Website: https://www.adagency.design/
If you have any questions over finding the best Branding & Advertising services in Dubai, send us a email at inquiry@inkpotgraphic.com
Stay tuned with us for more informative blogs. Till then, keep exploring!