Top 10 Exhibition Stand Contractors in Dubai
Looking for astounding and striking exhibition stand contractors in Dubai, UAE that bears creativity in its air, then your search ends here.
The top exhibition stand contractors or exhibition stand builders in Dubai and across UAE deliver the premium quality others do not or cannot. It all comes down to the quality of the execution provided by. It is important to have the objective of your exhibition in mind too that assists in selecting the exhibition stand design company. Your stand design reflects the key message of your brand and effectively communicates the motto of your company. It must be able to attract people and must stand high and be sturdy enough. Your exhibition stand should showcase your products or services to the best advantage, enhance your brand, and ultimately lead to more business opportunities.
So choosing a clever exhibition stand design promotes your brand and will get your business moving and generate high footfall in your stand. We have compiled a list of the Top 10 Exhibition Stand Contractor in Dubai that you can go through and determine the best exhibition stand builders that fits your business vision. 
1. Expro Global
Expo Global specializes in customized stall fabrication & designing services in Dubai, UAE. They work hard on your stand to provide engagement to your brand and earn the attraction of visitors towards your brand. Their passion is to keep making the best exhibition stands to over clients and commit to increasing your leads with attractive exhibition stands. They have years of experience in the field of exhibition stand design. 
Expo Global provides a one-time solution for your brand and designs the best and creative exhibition stand to steal the attention of visitors. They can handle multiple projects at one time due to a huge production team and great space in the working area. 
Phone: (+971) 58 187 6080
Email: standsbay@exproglobal.com
Location: Iris Bay Tower Business Bay, Dubai ,UAE
Website: www.exhibition-stand.contractors
2. Electra
Electra is a fully integrated solutions provider and production house for events, exhibitions, and environments in the Middle East. Their solutions include custom-made stands, exhibition scenography, contracting and management, events decor and set up, semi-permanent museum exhibitions, and tent and furniture rental services. Adhering to project management best practices, they bring to life the most challenging and demanding of projects. They support clients all the way, from planning and production to build-up and dismantle, ensuring a peaceful delivery, every time.
With the ability to produce all elements exclusively in-house they can control the entire production chain. The teams are trained to examine each element of the project. This key attribute has gained their client's trust through the years.
Phone: +971 4 456 3827
Email: info@electradubai.ae
Location: Office 1, Khaleej Al Arabi Street, Abu Dhabi, 95001, UAE
Website: www.electrasolutions.com
3. Maple
Maple Exhibition Organizing is one of the leading exhibition stand company in UAE specialized in offering presentation and exhibition administrations with a completely prepared workshop and a talented team of skilled workers and designers equipped for understanding any client prerequisites. Their exhibition stands are beautiful, with eye-catching visual impacts that have a high effect.
Maple Expo has complete exhibition stand arrangements, from show concept configuration, manufacturing stand, furniture, floor covering, graphics, floor arranging, and logistics.  Their full-service production team is pleased for its quality work and highly satisfying customer service.
Phone: +9714 572 7493
Email: info@mapleexpo.com
Location: 903, Damac Xl Tower, Business Bay, Dubai, UAE
Website: www.mapleexpo.com
4. Inkpot Graphics
INKPOT GRAPHICS are the renowned & highly competitive exhibition contracting, branding & advertising since 2002, that initiated the idea of delivering quality services. Inkpot Graphics provides exhibition stand designs in Dubai & Abu Dhabi, and for overseas companies that are exhibiting, design stands and fabrications, graphics, logistics, installing and dismantling, audio-visual, flooring, furniture, show-services paperwork, Kiosk, and on-site supervision. 
They understand that your exhibition stand is a key investment, essential to attracting your new businesses. Their exhibition stands are high-quality, attractive, and tough and the team of in-house Exhibition stand designers will work with you to conceptualize and finalize the right exhibition stand design and build. Their team of event professionals in providing a wide range of trade exhibition shows and eye to eye marketing products and services. They offer a one-stop solution for all your exhibition management needs. That's the reason they're rated so highly for the exceptional quality of exhibition stand service when it comes to custom exhibition stand design and builds in Dubai, UAE.
They help you gain new business from your exhibition stand and offer complete assistance, from exhibition stand design to installation, and they will help you to take your business to the next exhibition stand level. Check out their image exhibition stand in Dubai images [ https://inkpotgraphic.com/gallery/ ] and different booth sizes as a beginning stage to accumulate ideas and better grasp the type of design you are looking for.
Phone: +9714 255 4844
Email: inquiry@inkpotgraphics.com
Location: #66, Al Qusais Industrial Area 3, Dubai, UAE
Website: www.inkpotgraphic.com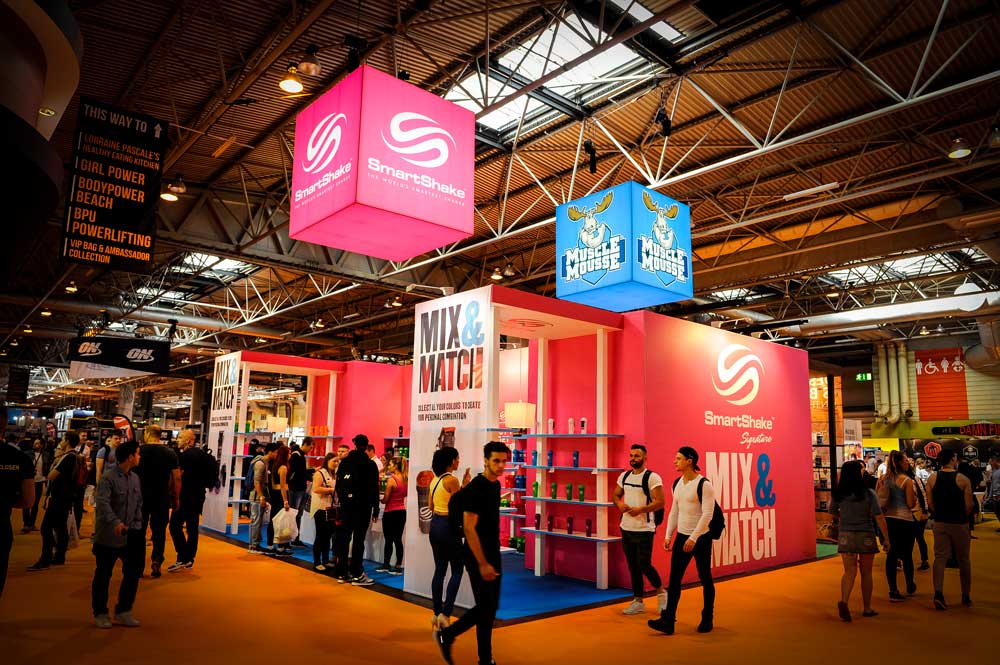 5. Global Branding
GLOBAL BRANDING are one of the growing Exhibition stand company for all types of Exhibition stands management services in Dubai. They specialize in expo stand building requirements from stand designs, carpentry, truss, lights, audio, video, furniture renting, graphics printing, and booth displays.
They are dedicated in handling the Expo & Exhibition production and committed to delivering the best Exhibition stands with the best possible quality and on time. They design and execute exhibition stands in Dubai with custom-made & System Modular stands with Country pavilions. They make sure that your brand gains maximum results & leaves a long-lasting impact on your clients by visiting your Exhibition booth and promotes the brand in the best possible way.
Phone: +971 4 4528798
Email: info@globalbrandings.com
Location: 806, DAMAC Business Tower, Dubai – UAE
Website: www.globalbrandings.com
6. EDS Middle East
EDS Middle East is among the few companies that not only design contemporary exhibition stands but also manufactures them in-house at a sophisticated manufacturing unit situated in Dubai and provides end-to-end exhibition stand solutions. They are the pioneers when it comes to creating a lucrative combination of European quality exhibition stands with Middle Eastern aesthetics that is aligned to the companies functioning in the region.
They concentrate on creating experiential environments for every segment of the exhibition industry by designing and manufacturing exhibition stands for exhibitions, trade shows, events, and activation solutions throughout the Middle East, enabled by an active network and a dedicated team.
Phone: +971 527931020 / +971 4 3232102
Email: info@expodisplayservice.ae
Location: Gate No.23, Warehouse No.1-3, Al Quoz Industrial area 4, Dubai, UAE
Website: www.expodisplayservice.ae
7. IDP Designs & Built
IDP are an emerging and trailblazing agency based in Dubai, UAE which helps the leading enterprises across the globe to showcase their businesses, products, accomplishments, and expertise utilizing cutting-edge technologies and systems for achieving a long-lasting impact.
The major benefit for the business over the years is by achieving a long-lasting impact from the exhibitions and events. They take pride in delivering such high-standard deliverables for their customers. With years of expertise in the field, they plan your events professionally, passionately and mindfully to ensure the exceptional designing, outstanding coordination, and seamless experience of any kind of large-scale events and exhibition.
Phone: +971 44474937 / +971 507379623
Email: info@idpexhibitions.com
Location: Al Barsha Heights ,Tecom Damac Smart Heights Tower Dubai,UAE
Website: www.idpexhibitions.com
8. Spark Innovation
Spark Group is one of the leading Dubai exhibition companies that provide a complete gamut of exhibition management services right from the conceptual stage to providing the most appropriate creative artifacts for any event or exhibition. They started our humble journey as an exhibition management company some time back. They are steadily going towards a distinct position in the event management industry in UAE. 
Spark Group also offers a wide collection of services to further enhance the impact of the exhibition. However, the ultimate objective of any event or exhibition is to develop the business indefinitely. They offer a complete array of creative solutions, services, and products that promise a distinct character to any event or exhibition. 
Phone: +971-529001855 / +971-562779215
Email: info@sparkgroup.ae
Location: P.O. Box – 30883, Dubai, UAE
Website: www.sparkgroup.ae
9. Emerald Events & Exhibition
Emeralds Event Management is the leading exhibition stand contractor in Dubai, and the team understands the impact that the look and feel of your exhibition stand can have on your brand. With extensive experience as one of the most reliable exhibition stand design companies in Dubai, and with an excellent reputation that has helped them gain recognition. They owe their reputation to hold a passion to assist their clients in making their brands stand out. 
They boast of a creative exhibition stand design team, highly skilled on-site project managers, and experienced senior account managers, all of whom are focused on providing elite-level services to all their valuable clients. Emerald has gained a remarkable footing in more than 19 countries across the globe.
Phone: +971 4 589 7322 / +971 52 994 3325
Email: info@emeraldeventsme.com
Location: 2109, Churchill Towers, Business Bay, Dubai, UAE
Website: www.emeralddxb.com
10. XESS Exhibition & Events
XESS Exhibition Stand services have been present in the industry of exhibition stand making for more than seven years. With expertise in exhibition stand contracting in numerous destinations that include Dubai, Abu Dhabi, Ras Al Khaimah, Muscat Oman, Doha Qatar, and Kuwait. 
XESS prioritizes the need to ensure that every stand has a new element to it by making certain that the customers get what they ask for, with quality that is precise as in the exhibition stand design to propose or in the designs that you propose to us. A different aspect to it is the execution of event production, in numerous ways; backdrops, stages, pop-up stands, roll-up stands, display stands, standees, banners, retail and food kiosks, audiovisual and furniture rentals.
Phone: +9714 548 4825
Email: info@xessevents.com
Location: 20 a Street, Marabea Road, Al Quoz Ind 4,Dubai, UAE
Website: www.xessevents.com
The list of Top 10 Exhibition Stand Companies in Dubai comes to an end. There are numerous companies highly experienced and innovative, that would help you to create exhibition stand designs in the UAE. If you'd like to know more about our services, or if you have any project in mind that you'd like to discuss with us, don't hesitate to get in touch with us!  We will be happy to provide you first-class service.
Stay tuned for more informative blogs 🙂